No order confirmation is available because no purchase was made.
Annual Hunt Country Classic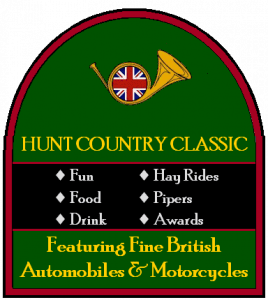 At the present time we are planning to host our annual British vehicle show the Hunt Country Classic on October 10th with a rain date of October 11th.  We continue to monitor the progress of the coronavirus pandemic and guidelines issued by commonwealth and federal authorities and will let you know if we are forced to change our plans.  Visit this website for status 24 hours prior to the show.  Until then we are looking forward to good weather and a good show in October 2021.
Stay positive. Stay healthy. Cheers!
Speedvision.com wrote a great review of the event. Link to copy of the article: Hunt Country Classic Article
This event was also reviewed in the June/July, 2001 issue of BRITISH CAR magazine and the March 2005, March 2006 and March 2010 issues of CLASSIC MOTORSPORTS magazine (formerly known as BRITISH CAR magazine).
Pre-registration by September 30th:  $25.00
Registration after September 30th: $35.00
Drive-Up / Day-Of Registration: $35.00
Spectator Parking: $10.00 (per vehicle)
This year, we are pleased to announce that food will be available at the Hunt Country Classic show from several quality vendors.
A variety of vendors will be serving light breakfast fare in the morning and delicious lunch selections a bit later. The Carrousel Ice Cream Truck will also be on hand for tasty treats and brain freezes.
All food sales will be on a cash-only basis.
Add Your Heading Text Here
Registration is non-refundable.
Show will be held on the published date, or rain date unless otherwise noted. Pre-registration is non-refundable.
This is a Popular Vote car show. Judging/balloting will be conducted by the egistrants.
The first 300 vehicles will receive dash plaques.
All registered vehicles will be placed in a class for judging and award purposes. Vehicles must be parked with their assigned class to be eligible for awards.
Awards are dependent on the number of participants in each class.

Ribbon: 1 car in class
1st Place: at least 2 cars in class
1st & 2nd: at least 4 cars in class
1st, 2nd & 3rd: at least 6 cars in class.
Winners must be present to receive award.
Trailer parking is available. However, no trailers will be allowed on the show field (this includes loading & unloading.). Display vehicles must be driven onto the show field under their own power.
No "For Sale" or promotional signs will be allowed in award class display areas.
Only vehicles of British manufacture will be allowed on the show field. Please click here to read our policy on Reproduction, Replica and/or Kit Cars
All registrants and guests may participate in the Hunt Country Classic silent auction.
Food & non-alcoholic beverages will be available for purchase.
Pets are welcome, but must remain leashed and under direct supervision/control at all times. Check out our "Doggie Buffet" for access to water and treats.