Each year the spectator attendance and popularity of our show has grown, resulting in the recognition that the Hunt Country Classic is the premier fall car show in the Mid-Atlantic region. As the show is held on the border of Loudoun and Fauquier counties in Virginia, two counties with the highest median family incomes in the mid- Atlantic region, many of the vintage car owners and spectators who attend have available disposable incomes. With a large potential customer base, there is the opportunity for a very profitable day of commerce.
Vendor spaces are generally sold in 12′ x 12′ increments and are only sold in advance of the show. The costs for vendor spaces this year are indicated below.
12′ x 12′ space $50.00
12′ x 24′ space $75.00
12′ x 36′ space $100.00
Non-standard space fees are determined by negotiation
Note: The size space you request is what you will be allocated and there will likely be other vendors adjacent to you, so please request the space you need.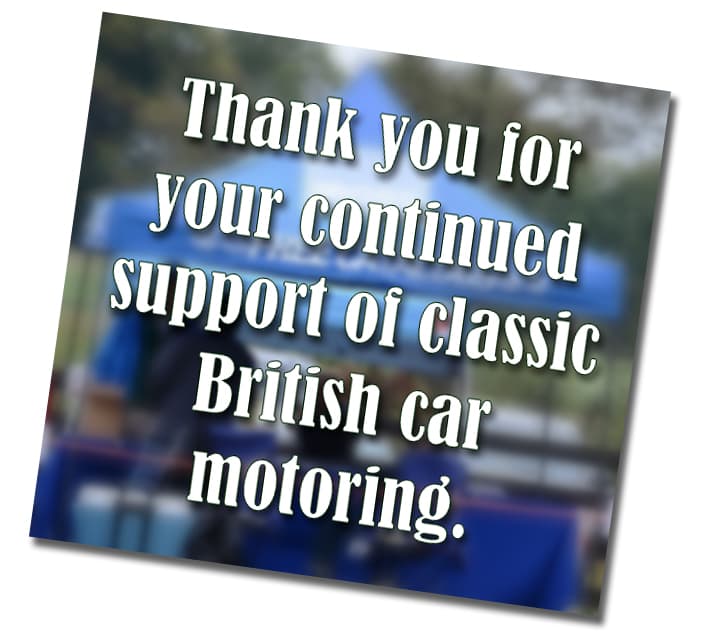 If you are interested in vendor space at our show this year: please complete the application and release forms and send them, along with your payment, to the MG Car Club and return them to the address above no later than 1 October. If you would like to request a non-standard space, please contact our vendor point of contact directly at thomasdrenda@gmail.com to determine the appropriate fee.
Directions to Willoughby Farm, 7397 Frogtown Road Marshall VA 20115, site of the Hunt Country Classic British Car Show: 
From Route 50 traveling East:
At Upperville exit south onto Delaplane Grade Rd/VA-712.
Turn left onto Rectortown Rd/VA-710.
Make another left onto Frogtown Road/VA-702 and travel about two miles to Willoughby Farm on the right.
From Route 50 traveling West: 
In Middleburg exit south onto Zulla Road/ VA-709.
Make a right onto Rock Hill Mill Road/VA-702, which becomes Frogtown Road.
Stay on Frogtown Road for 1.5 miles to Willoughby Farm on the left.
From Interstate 66 (I-66):
Take Exit 28, US Route 17

IF coming from the East turn right at the end of the off-ramp.
IF coming from the West turn left at the end of the off-ramp.

Initially the road is US Route 17 but after crossing Main Street it becomes County Road 710 / Rectortown Rd — same road, different name and number)
Continue for approximately 3.7 miles.
Turn Right onto Frogtown Road (also marked as County Road 702) and continue for approximately 1.9 miles to Willoughby Farm on the right.